January 13th, 2020 posted by H Whitehead
The lecture recording software in large lecture theatres has been updated to Universal Capture, so that all rooms on campus have now changed to use the same interface. Other rooms were updated in Semester One.
We recommend that before you begin teaching, check out the room and become familiar with the interface, and/or access the Engage training resources listed below.
1. Screencast
You can learn more about how to use Universal Capture by watching the screencast 'Recording with Universal Capture', below.
2. Training sessions
To support you, the Engage team are offering some training sessions to give you the opportunity to learn more. You can book on any of the dates below through  Professional Development Short Courses:-
University Park Campus
13 January 2020 1 – 2.30 pm
23 January 2020 10 – 11:30 am
Sutton Bonington Campus
14 January 2020 10 – 11:30 am
Jubilee Campus
21 January 2020 10 – 11:30 am
Medical School
22 January 2020 1 – 2.30 pm
3. Help on Moodle
There is also help and guidance available on Moodle – visit Introduction to Engage for Staff  and self-enrol (see Making recordings in teaching rooms).
If you have any queries please email engage@nottingham.ac.uk.
4.  Learning Technology Drop-ins
Although primarily intended for help with learning technologies, if you cannot attend one of the training sessions listed above we can often advise on Universal Capture.
Thursdays term time    1-3 pm     Humanities, Student Services West
Wednesday 22nd January  1-3 pm   Sutton Bonington Student Services
Every weekday, University Park:
Science  9-11  am  A10  Coates Building
Engineering    1-3 pm  A10  Coates Building
Everyone else     9-12   E06 Teaching and Learning Building UP
Posted in learning technology video Web-based resources
January 7th, 2020 posted by H Whitehead
Groups are so useful in Moodle. They can be used for group activities such as:
Assignments submitted one per group (e.g. presentation)
Working together in a group e.g., in a forum or wiki
Allowing resources/activities to be visible only to certain students (by putting them in a group)
Allocating markers for groups of students
Creating a group as a sample for external examiners or external accreditation
As you can see from the example, it's entirely possible for several types of groups to be created in the same module for different purposes.
This means that each student can be in two or more groups. If they are doing something in a group, Moodle needs to know which of those groups is the relevant one for the activity. Otherwise, the groups won't work. See for example the students marked in red/blue in the diagram, who are each in two different groups.
Moodle can't know which group to use. It assumes all groups are eligible. If Red submits a presentation to a group assignment, should this be attributed to Group B or Group X?
To keep everything in good order, we use groupings.
When setting up the Assignment activity, we tell Moodle to use the Assignment grouping, i.e. the eligible groups are Groups A, B and C. It will ignore any other groups.
When setting up the wiki activity, we tell Moodle to use the Wiki grouping, i.e. Groups X and Y. It will ignore any other groups.
There's even a group – Accreditation group – which isn't in any grouping, and can be used independently, e.g., to sort individual submissions. If it were part of a group activity for students, it would need to be in its own grouping.
The important thing is that every activity which is set up as a group activity, particularly assignments, also has a grouping.
Help on how to set these up is available here:
EXAMPLES: There are 5 groups, but only 3 need to be used for an assignment.
Posted in learner experience learning design learning technology Moodle Uncategorized VLE
January 6th, 2020 posted by H Whitehead
There will be a short period of maintenance of Moodle on Wednesday 8th January 17.30-18.30 UK time (Thursday 9th January 01.30-02.30 China/Malaysia time). Moodle will be unavailable during this time.
Posted in Maintenance Moodle
January 6th, 2020 posted by H Whitehead
Our Online Facilitation and Designing for Engagement course is running again for two weeks online starting Wednesday 22nd January.
This course aims to provide those teaching or planning to teach an online or blended course with ideas, techniques and skills to design and facilitate effective learning online.
Participants will learn how to design engaging activities that motivate students and promote learning in completely online courses or as part of a blended course. You will practice the essential skills of online facilitation: for example how to initiate and keep a discussion going with a minimum of intervention.
This entirely online course will take around 7-8 hours spread (reasonably evenly) over two weeks.  The course is strongly participatory. Participants are expected to engage in online activities which develop and build practical skills.
For more information contact helen.whitehead@nottingham.ac.uk
Posted in events learner experience learning design learning technology Moodle Web-based resources
December 19th, 2019 posted by H Whitehead
We are continuing our series of Digital Learning Drop-in workshops in 2020.
We help staff (or students) with Moodle, Xerte Toolkits, Mahara, Rogo, Turnitin, Engage lecture capture, audience response systems, module planning, Microsoft Teams for teaching and learning and more. We've helped revamp modules, plan Moodle pages, develop and implement new ways of assessment including blogging and reflective journals, explore active learning, and facilitate online activities.
Some sessions are focused around a particular School or Faculty but everyone is welcome, so pick a time and place that's convenient.   Just turn up or contact us in advance, especially if you would like to see a particular person or discuss a particular issue.
Every weekday:
Science  9-11  am  A10  Coates Building
Engineering    1-3 pm  A10  Coates Building
Everyone else     9-12   E06 Teaching and Learning Building UP
Note that occasionally the rooms may be booked out for events. If you turn up on such a day, please just get in touch with learning-technologies@nottingham.ac.uk and we'll meet you somewhere else – or you might find the event of interest!
See you there!
Posted in assessment case studies events learning design learning technology Microsoft Teams Moodle
December 6th, 2019 posted by H Whitehead
New locations have been launched for important student information:
Posted in assessment learner experience Web-based resources
November 22nd, 2019 posted by H Whitehead
The Erasmus funded Future Teacher project has let us know about their next steps.  While their project is now completed they had a community of 1400 people registering for one or more of the 19 Future Teacher talks and 29,000 views of the Xerte resources. So they are continuing as follows:
Welcome to Future Teacher Reactivated!
Over the next 2 years we'll revisit each topic. Instead of galloping through a wealth of content we'll focus in on active peer learning. We'll revisit some of the activities, giving you a chance for more debate and discussion. We'll have more guests from more places sharing their experiences.
This month is the first of the new series and we go back to Online Learning: What Works?
If you were with us in the original webinar we'd love you to join and tell us your successes (and failures) in the 32 months since the session.
If you are new to the webinars, you'll find a wealth of free resources, links and activities that you can use and adapt in your own setting. With digital accessibility an underlying theme in all the different sessions there's no better time to be helping your colleagues develop their practice.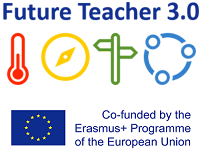 Join us on Friday 29th November from 1300-1400 (GMT) for Online Learning: What Works?… Reactivated. 
Register at https://xot.futureteacher.eu/play.php?template_id=4 but please only register if you intend to come since we are limited to 100 participants.
All sessions are recorded and the recording link advertised through our Future Teacher mailing list.
We look forward to seeing you on 29th November and introducing you to our guest speakers.
Posted in case studies events Web-based resources
November 19th, 2019 posted by H Whitehead
What is your job role?
Learning Technology Officer, in the University of Nottingham Library: attached to the Faculty of Arts.
I provide front-line support to academic staff and students. I support and promote a wide range of learning resources and digital learning solutions. This includes supporting staff and students in their use of Moodle, Engage, Rogō (e-Assessment system) and Office 365 in a teaching and learning context.
What 3 words describe you?
Approachable, enthusiastic, collaborative
Tell us something 'unusual' about yourself
I am a Patient Research Ambassador, NIIHR Clinical Research Network.  I promote health research to the public from a patient point of view and sit on the West Midlands Regional Forum.
What excites you about learning technology?
How learning technology can be used in conjunction with lectures, workshops, tutorials and student-directed sessions to help students learn, acquire knowledge and collaborate. It is great to see first-hand how using learning technology can be used to support student experience, welfare and engagement.
Do you have any top tips for our users?
You can meet members of the team at the 'Digital Skills Open Workshop' drop-ins every weekday in
E06 Teaching, Learning Building, 9 am until noon or
the Education Development Studio in Engineering. 10 am until noon and 1-3 pm.
Don't struggle alone ask for help, is my top tip.
What do you think will be the most important thing in learning technology at the University of Nottingham in 2019/20?
Fostering and developing digital capabilities of current students and staff. Exploring your own overall 'Digital Capabilities' and how you could develop.
The Jisc 'Digital Discovery Tool' allows you to explore your overall digital capabilities. Jisc.potential.ly
What have you learned recently?
How OneNote can be used to share and create notes and how adding pictures, embedding video, audio files and meeting details can assist with written notes/recall of meetings.
Using the 'print to OneNote' and annotating the PDF is a really fun way to add personal notes or feedback and how this approach could be used by both academics and students.
More "Five minutes with…"
Posted in Engage (Echo360) learning design learning technology Microsoft Teams Moodle Office 365 Rogō University of Nottingham Libraries VLE
November 11th, 2019 posted by H Whitehead
Information Services are currently offering some training sessions via Central Short Courses to give you the opportunity to learn more about using Engage.
These will take place:
Wednesday 13 November 2019, 1-2.30pm, A06 Medical School, Queens Medical Centre
Wednesday 20 November 2019, 1-2.30pm, A3 Law & Social Sciences Building, University Park Campus
Please go to the Central Short Courses Engage booking page to book your place on one of the sessions above. You only need to attend one session as the content will be repeated.
Instructions on how to use the new interface can also be viewed online.
Posted in Engage (Echo360) video Web-based resources
October 24th, 2019 posted by H Whitehead
The Home Office has made available these posters about designing for accessibility.  The two about designing for users on the autistic spectrum, and designers for users with screen readers may be most helpful
Tips (that are good practice for all users) include:
Use simple (not bright contrasting) colours
Write in plain language (without figures of speech, acronyms or idioms, unless clearly explained and appropriate)
Use simple sentences and bullet points (rather than long chunks of text)
keep layout simple, consistent and uncluttered (a logical linear layout such as Moodle offers by default is easier to read than spreading content randomly all over a page)
provide descriptions or titles for images, and transcripts or caption for videos (not necessarily required for lecture captures)
write descriptive text for links, headings and buttons (not just "click here" or "Section 1″)
Posted in Accessibility learner experience learning design MOOC Moodle VLE Web-based resources